The fastest way to grow your business with the leader in Technology Check out our products and features included.
An efficient POS so you can

bill smart.

transact quick.

manage easy.
Who We Are
Cozy POS/ERP is a product of Cozy Infosystems Private Limited, India. Cozy ERP is a comprehensive solution for multi location retail store management with cloud back office and HQ management option. Solution is built on an architecture that will give an ability to run the software from wide range of platforms such as Windows, Linux, Android, iOS, etc. Cozy ERP comes with various different modules listed below.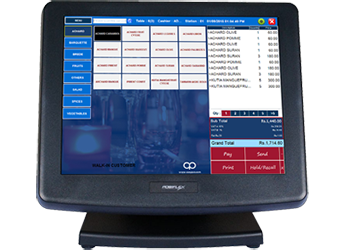 OUR HIGHLIGHTS
OFFER MANAGEMENT
Get all your respective offers sorted and arranged so that in the time of need, it's all there in order.
DETAILED SALES HISTORY REPORTS
A company runs on its sales and hence, its always a boon to keep a track of your sales' details. You may need it anytime.
TOUCH SCREEN BASED BILLINGS
Enjoy hassle free billings with a single touch.
CUSTOMER MANAGEMENT
Manage all the invoices of your customers along with their buying attributes at one go!
ORDER TIME STATISTICS
Now get to know the time a particular order was made and all the other with that regard. Account management never got this easy.
MOVE TABLE
Create, name, number, move or even delete a particular table as per your requirement.